The Sandman Will Keep You Awake - The Loop
Play Sound
"
Macseth is the first one to come up with a mechanism that generates fire from Shinsu. He is known as the father of fire.
"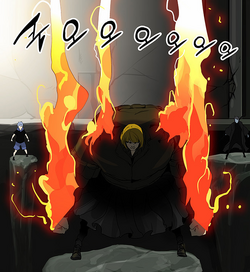 Fire (불, Bul, Fire) is one of the basic elemental Shinsu Quality that allow the user to change their Shinsu into fire.
About
Fire element was first mentioned by Yuga, the Wave Controller class teacher in 2nd Floor when he explained how the Shinsu works.[2] Yuga turned out to be a fake name used by Lo Po Bia Ren.
In the Part 2, Yeon Yihwa, a descendant of the Yeon Family, one of the Great Family that utilized fire as their main power, introduced the first very example of someone using fire.[3]
Currently there are not much information about fire.
Applications
Known Users
Images Gallery
Notes and Trivia
References