On the 21st Floor, Yihwa was with a relative telling her about her doings on the 20th Floor, although the events were garbled. They ended the conversation with her relative warning her about the new Slayer candidate, Jyu Viole Grace, who had apparently been seen harassing women and committing robberies in the shopping district.
She went back to Team Tangsooyook's house and expressed her concerns, but to no avail. Frustrated, she took it upon herself to stalk Viole and make sure he didn't commit any crimes. She saw him enter a karaoke bar, suddenly followed by screaming Regulars running away. Though Viole actually defeated an imposter and helped the Regulars, Yihwa expected the worst and rushed into the bar, only to find Viole with another woman. Bewildered, Yihwa was approached by Jinsung, who thought she was a spy sent by the 10 Families, a thought dispelled by Viole's intervention. Yihwa was still acting aggressively, so Viole knocked her out and carried her back to the residential area.
In Team Tangsooyook's house, Akraptor assured Yihwa that her poor control of flames wouldn't be a reason for them to throw her out of the team and that she needed Viole. Yihwa, surprisingly, did not contest this statement.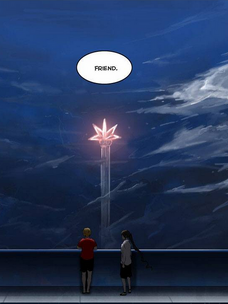 In the living room, Jinsung was waxing on about Viole's amazing shinsoo control, causing Viole to evacuate himself from the awkwardness that was accumulating inside the room. Jinsung left to go after Viole and Hwa Ryun revealed to
Wangnan
that their main purpose was to kill Viole's team and give him a more powerful and orderly one. She went on to tell them of
FUG
's goal: to kill
Zahard
, revealing to Wangnan that Viole was an
Irregular
. She also revealed that they held Viole's friends hostage and that Viole was climbing the Tower for them, dispelling all good thoughts Wangnan had about them.
Later on, Wangnan joined Viole and told him that they were friends and that he wouldn't mind risking his life for him. This deep conversation was broken by the appearance of Yihwa, who burnt Wangnan after being teased that she felt threatened by the appearance of Hwa Ryun.
Four days later, they entered the testing arena...