Doctor Strange in The Multiverse o Madness - The Loop
Play Sound
The Development Tournament (성장 토너먼트) was the second part of the Workshop Battle. This tournament was created due to a complication that occurred during the Plug event.
Rules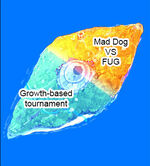 In this tournament, an Underwater Arena is divided into two sides: The North Side, where FUG and Team Mad Dog are to fight, and the South Side, where the 8 remaining Gamblers are to fight. There will be two winners, one from the North Side and one from the South Side. They will face against each other in the finals.
Each teams will select one member to become "Vanguard / Spearhead (선봉, Seonbong)". The Spearhead is someone who will change the flow or tides of the battle.
North Side
In the North Side of the Underwater Arena, Team Mad Dog is to face off against Team FUG. There is a "key" in the centre of the island, which can open a hidden door which leads to a grand prize of the tournament. If Team FUG manages to take this key, they win. If, however, Team Mad Dog manages to defend the key, then Team FUG loses. Also, two "capture points" are present. If Team Mad Dog manages to capture both of these points, then Team FUG loses.
South Side
In the South Side of the arena, each of the eight Gamblers who have lost in the previous round are to "buy" a Vanguard with their points. Each Gambler is given 100,000 points to start with. Each player is assigned points based on his presumed strength. All Vanguards start in a "safe zone", and are given 30 minutes to exit the safe zone, after which they are disqualified. Vanguards are free to attack whomsoever they want, but in order for a team to pass, the enemy team's Vanguard must be eliminated. Once the Tournament starts, a Vanguard has two options: he/she may either hunt down the enemies or may head out either to Teammate Summoning Center, where he/she can summon teammates or Item Summoning Center, where he/she can buy items. 50,000 points are granted to each Gambler every 30 minutes. If the enemy Vanguard is defeated, the victorious Vanguard's team gains 500,000 points. Apart from the enemy Vanguard, if an enemy is defeated, 100,000 points are granted to the victorious Vanguard's team.
Participating Teams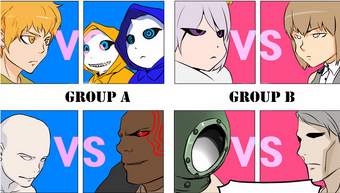 The following are the list of participating teams and their "Vanguard / Spearhead":
Group A

Participants

Spearhead

Status

K.O

Unknown Team

Unknown
Group B

Participants

Spearhead

Status

Unknown Team

Unknown
Winners
North Side: Team F.U.G
South Side: Team Tangsooyook

Team Tangsooyook Vs Team Solidarity - Winners: Team Tangsooyook
Ship's Team Vs Team Bellux and Unknown Team - Winners: Team Ship
Team Snake Vs Unknown Team - Winners: Team Snake
Team Tangsooyook Vs Team Devil Bon - Winners: Team Tangsooyook
Team Ship Vs Team Snake - Winner not decided. Team Snake had forfeited, and in order to maintain fairness, the Developing Tournament had a rule which stated that if a Team has forfeited due to a reason other than the injury of the participants of that Team, no point would be awarded to the opponents, and all the remaining Teams would have to fight amongst themselves.
Final Round
Although unofficial, Reflejo challenged Jyu Viole Grace and termed it as the "final round". This transpired when Reflejo took Hwa Ryun, Horyang and Novick hostage and told Jyu Viole Grace that if he came to rescue them and successfully escaped or defeated him, they would win and he would let them go on as the winners of the Tournament.
Results
Khun Aguero Agnis, Rak Wraithraiser & Jyu Viole Grace vs Reflejo (Hwa Ryun kept as hostage)

Result: Hwa Ryun is successfully rescued and Reflejo lost his life.

Androssi & Hatsu Vs Varagarv & Ron Mei

Result: Androssi Zahard & Hatsu win by forcing Varagarv to forfeit.
Images Gallery