Boba Fett Returns - The Loop
Play Sound
De Jah's Castle (드자의 성, Deuja Seong) is the castle of Grand Family located in the 43rd Floor North City. The castle is currently run or managed by Grand De Lee after the previous ruler Grand De Jah retired.[1]
About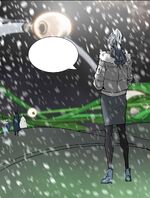 De Jah's Castle is located deep within a cave or passage. The entrance of the cave or passage to De Jah's Castle has unique design. There are some kind of unknown vegetation in front of the entrance. There are many One-Eyed Lizard Shinheuh live inside the cave or passage to De Jah's Castle.


History
At some point of the Floor of Death history, after Hell Joe managed to persuade most servants of Grand De Sah to rebel, Hell Joe attacked the Grand Family castle in the 43rd Floor South City, captured Grand De Sah and imprisoned him in the "Eternal Prison". Ultimately, Hell Joe took complete control of the South City.[2]
After Hell Joe established his power in the South City for a period of time, he tried to invade De Jah's Castle in the 43rd Floor North City in order to seize The Spirit Room for his ambition to set people free from the immortality spell that prohibited the inhabitants in the Floor of Death to exit the floor. However, Hell Joe failed to invade De Jah's Castle because Grand De Jah had special eyes that can see the future and already anticipated the invasion beforehand. De Jah used his eyes to place many booby traps along the path that Hell Joe took towards the North City. Not only with the help of his special eyes, Grand De Jah also receive aid from Garam Zahard to defend the North City. Hell Joe who didn't know about De Jah's special eyes was confused as to why there are so many traps along his way and eventually, Hell Joe gave up to invade De Jah's Castle.[3]
Long time after the invasion, one day, Yuliu Mata visited De Jah's Castle and begged Grand De Jah to heal David Hockney who lost both of his eyes because of Hell Joe. After hearing the cruel story, De Jah then agreed to gave Hockney his special eyes in exchange for doing him a secret favor, which is to bring a savior that could free them from the immortality spell.[3]
Images Gallery
Notes and Trivia