Jurassic World: Dominion Dominates Fandom Wikis - The Loop
Play Sound
Daleet (델리트, Delliteu) is the commander of the wall guards at the Wall of Peaceful Coexistence.[1]
History
Daleet's family has been guarding this wall since Genesis. He was the only member of his family to become a Ranker. He was once the caretaker of a group of meager people he had encountered. One day, he got into an altercation with and killed a Ranker who was extorting labour and taking from the weak. However, that person was the younger brother of a High Ranker who was also adored by the Ruler of the area. Daleet was accused of murder and the weak ones he had cared for turned their backs on him. Ultimately, he was forced to run away and he eventually returned to the wall. Because of that experience, he came to the realization that the tower is ruled by the "laws of the jungle."[2]
Appearance and Personality
Daleet is a tall man, as he appears to be at least twice the height of the Twenty-Fifth Baam. He has spiky black hair with pointy ears. His skin is slightly tan skin with beige eyes. He wears a torn blue cape with orange-bordering red circles at the shoulders. Underneath that, he has an all-grey attire with boots, pants, and a robe.
During his time as nomadic Ranker, he wore a large white robe under a grey sweater and a brown vest. He also had grey, baggy pants and brown shoes. He also had a white knapsack.
Daleet is a strict believer of the laws of the jungle, which he experienced first hand during his travels in the Tower. He believes that the weak will naturally suffer and that power is everything. He also quickly turned on Team Baam after learning that Kallavan was a Squadron Commander. He also strongly desires peace like all of the citizens of the Wall of Peaceful Coexistence. Despite his strong belief of the laws of the jungle, it is revealed that Daleet does have the honour to not fight those who are too weak, as he targeted Baam while ignoring his friends, and accept defeat, as he agreed to help Baam after he was defeated by him.
Image Gallery
Powers and Abilities
He wields a large Needle, but his proficiency with it is unknown.[1] His power has declined due to his tenure as a wall guard.[3] Nevertheless, Daleet was deemed to be the second strongest of the Rankers guarding the tower where Dowon was sealed, under only the High Ranker level Tonki.
Enhanced Speed: Despite his power decline, he is still fairly fast. Baam noted that it was challenging to keep up with his pace and wondered if his height played a role.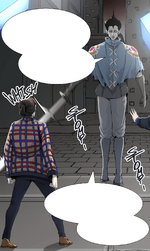 Kal Rahim sent Daleet a message to temporarily side with Baam's team in order to gather information on the intruder. In the event of learning that the intruder was stronger or a member of Zahard's Army, he was to kill them and side with the intruder. After learning that the intruder was a Squadron Commander of Zahard's Army, he attacks Baam's team. Knowing the power of a Squadron Commander, disobedience would mean death, but compliance would ensure peace for the wall[3]. Daleet proceeds to extend his needle to attack Baam's team. Rak forms a rock wall, but it's quickly destroyed. The group narrowly escapes onto Baam's Blue Oar. They now prepare for a counterstrike with Baam's Red Thryssa and Khun's Fire Fish.
Weapons
Silver Needle: Daleet's main weapon is a silver needle he carries with him. It can expand, greatly increasing in length and width, which increases its destructive power. He's also able to perform rapid-fire jab motions, even with the needle being increased in length[4].
Cherry River Needle: Daleet's special weapon is a needle made with gem material from the Cherry River. It's special because the gem is very though more than normal steel. The needle's blade is filled with red stone gems.
References