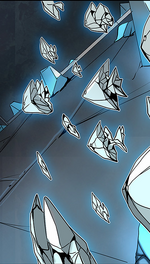 Crystal Shards (크리스탈 샤드, Keuliseutal Syadeu) are a kind of Shinheuh.
About
Crystal Shards are vicious creatures that travel in groups and only resides in cold Shinsoo. They appear inside the Hell Express from the 40th Floor onward.[1] A bigger subspecies also exists: the Big Crystal Shards.[2]
References
Community content is available under
CC-BY-SA
unless otherwise noted.