Jurassic World: Dominion Dominates Fandom Wikis - The Loop
Play Sound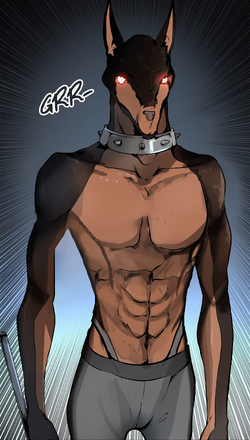 Combat Dogs (군견이야, gungyeon-iya, "Military Dogs, War Dogs") are different type of Canines in The Cage.
They are mindless and soulless dogs, not able to think freely. They will do everything their master tells them without any care or concern for their own well being. They are the perfect unthinking soldier. They can serve as workforce, guards (prison guards, security), and personal bodyguards for high ranking officer in The Cage. This soldier dogs were created to replace the normal Canine People as disposable soldiers and war manpower for FUG. Yama didn't want to sacrifice the normal Canine People because he already considered them as a family and as an entire species.[1]
History
They were "created" by Baylord Yama using the special machine of The Workshop with the support from FUG in exchange of Yama to join FUG and hold the title as the FUG Slayer.[1]
Appearance and Design
The Combat Dogs are muscular and pretty tall in built. They are humanoid (with human arms and legs) but their head are literally head of an actual dog. In other words, they look like man with a canine head.
Image Gallery
Notes and Trivia
Alternative Translation
War Dogs
Fighting Dogs (LINE Webtoon)
Military Dogs (Papago Translation of 군견이야)
References