Cha (차, Cha) is a war hero who sealed himself within the Wall of Peaceful Coexistence in order to be closer to Dowon. He is a Co-leader of the Hidden Grove team along with Dowon.[1]
Appearance and Personality
Cha is a quite muscular man with tan skin, black standing straight hair and black eyes. His ears are slightly pointed and he has a tattoo/mark on his right cheek in the form of a black windmill. In his initial appearance, he wears a blank tank top and a green headband. He has three-pin accessories with facial expression on his tank top. One yellow pin with expressionless face located on the right side of his chest, one red pin with an angry face in front of his right stomach, and one black grey pin on the left stomach.
At The Nest, the pin accessories on his tank top were a little bit changed. The black pin was removed and the red pin was moved to the left stomach from its initial position on the right stomach. When he blocked the incoming attack, he was seen to wear white bandages which wrapped on his arms.
Image Gallery
History
Following the war history of FUG against the Zahard Empire, at some point, like Dowon, Cha also seems to be one of the many outstanding Rankers from many countries who opposed Zahard to become king of the tower. He probably received special training under the masters at FUG as well. After all of these outstanding rankers completed their training, they were assigned in their respective special teams. Cha was assigned as the leader of Hidden Grove team, along with Dowon, Khun Hynd Luch, Taro York, Toro and three other unnamed members. During the war, the Hidden Grove team quickly gained notoriety as one of the best teams that emerged during the war after they successfully killed direct descendants of the 10 Great Families.[2]
Three Months before Dowon was sealed, the Hidden Grove team members (Dowon, Khun Luch and Taro York) were being chased by the Ancient Odd-Eyed Giant Cobra, one of the 23 special beasts of Lo Po Bia Family which was controlled by the 8th son of the Lo Po Bia Family Head. Dowon managed to slow down the giant cobra with her Flower Garden skill before Cha finally came to their aid along with Toro and one other member.
The 8th son then revealed his real intention before of all members of the Hidden Grove team that were present at the time, stating that he was sent to deliver a special message to Dowon that she had to surrender to be sealed at the Wall of Peaceful Coexistence. After hearing the message, the team decided to end the fight with the snake and returns to its warship. In the meeting room, all members of the Hidden Grove team are gathered to hear Dowon's opinion, all of them are present, except Cha. But it turns out Cha waited on the outside of the meeting room. In a teary goodbye with Dowon, Cha finally confessed his hidden feelings for Dowon, by asking if he could ask her out after she got unsealed.[3] After Dowon was sealed, Cha was deeply saddened. He left the team and went to go on a rampage, killing several allies of the Zahard Empire before requesting to be sealed himself.[1]
After he becomes unsealed, he saw Toro died in front of him. Later, Cha interrupts the fight between the 5th Army Corp and the Canines with an energy blast. Cha remembers before he was sealed away that a man told him to sealed himself away in order to see Dowon again. The man also told Cha he would see a special boy from a noble bloodline.
Cha accepts the apology of the Chairman of the Wall of Peaceful Coexistence and insists he stop bowing before him as he already got it. He asks Khel Hellam if he still won't act to fight Zahard's Army and the Elder affirms his decision, as the recent defeat taught him again that Zahard is able to see fate one step ahead of him and though Baam may have the power to turn the tides, he is too weak to battle Zahard's Army and regretfully it means they will have to abandon Ha Jinsung to whatever fate Zahard's Army has in store for him and not support Baam. Cha is unconvinced as he has vowed to serve Baam and tells Khel Hellam they will thus part ways, though his help could be invaluable.
Cha then meets Viole and pledges allegiance to him and reveals all he knew about the ancient nations and Viole's mother.
Relationship
Dowon: Cha is very close to Dowon and holds romantic feelings for her.
Toro: As a fellow teammate of the Hidden Grove, Toro was extremely loyal to Cha. He sacrificed his life to unseal him. Cha cried for Toro once he was unsealed.
Twenty-Fifth Baam: Cha pledges his loyalty to Baam and is part of Baam's vanguard during the invasion of the Nest.
Powers and Abilities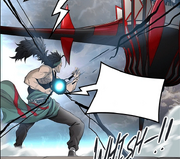 As the co-leader of the extremely powerful Hidden Grove team that had even killed the some of the first children of the 10 Family Heads, Cha is an extremely powerful High Ranker. After he left the team out of sadness over Dowon being sealed, he was capable of killing countless of Zahard's Army's Rankers and forces by himself before ultimately being forced to run away.[1] Another testament to his power was how Zahard's Army sent the 5th Army Corp Corps Commander Lo Po Bia Yasratcha to fight and if possible subdue him. With just a single attack, he was able to push back Yasratcha, whereas the latter could easily defend himself from the likes of Evankhell and Yama. It should be noted that Yasratcha was caught off guard by Cha's attack.
Later, Cha's capability was further shown when he could easily defend Twenty-Fifth Baam from the incoming attack of three Division Commander High Rankers of Zahard's Army, each of them are two Division Commanders Ari Bright Sharon and Nyono Wan, plus Platoon Commander Yolker. There are another two unidentified rankers as well who fly alongside Nyono Wan.[4]
Shinsu Mastery: Cha was able to unleash an extremely powerful beam of shinsu energy that could make Yasratcha struggle to block it and blow him back.
Quotes
(To the 8th son of Lo Po Bia Family) "I'm the leader of this team!! If you've got something to say, shouldn't you say it when I'm here?"
(To Dowon) "The Hidden Grove team believes in blooming and wilting beautifully, like a flower. I won't cry or try to hold you back if you die or leave."[1]
References
Community content is available under
CC-BY-SA
unless otherwise noted.