Part 1 Review: As the name describes, this is a special Chapter SIU wrote for a summary of ToG: Part 1 Reviews, and some sneak peeks of Part 2. In a way, this is considered to be the seventy-ninth chapter of Volume 1 of Tower of God.
Summary
The Author confirmed that Yu Han Sung is a man despite looking like a woman. He also states that Yu Han Sung likes all kind of instant food, not just instant coffee.
Lero-Ro's dot's are based on the design of Pikachu. It's not a dot/mole though but a drawing. It symbolizes that a special test has been conducted.
The author doesn't believe that a Danhengbon (Korean equivalent to Japanese Tankōbon) of his series will ever be made.
Laure was inspired by his sister, who refused to sleep without her blanket when she was young.
The author states that he hates Khun the most because he's a man who's good looking, smart and from a good family.
- About Rankers:
"The Ranker position in the Tower is a very lavish status (you can assume they have no problem with living expenses). However, just because they became a Ranker doesn't mean their rivalries have ended. Rather, they enter into more fearsome rivalries, so they seek better positions and better jobs.
The reason behind a Ranker's rivalries will be slowly explained later."
- About the time needed to clear a Floor and if the progress will be faster or slower:
"It depends on the Floors. Some will make no appearance at all and some will drag on like the Floor of Test. A lower Floor could come out later as well and a higher Floor might come out first as well. Also, regardless of the Floor count, it's best to think of the plot that will unfold as the core content."
- About what happens to Regulars who fail a test:
Regulars who fail to pass the Floor of Test are stripped of their rights and return to the outer Tower.
After the Third Floor, they have the right to retake the test. They say that most of the people who passed the Floor of Test will also pass the rest because the difficulty is not that high.
If they give up in the middle, they are stripped of their rights and are sent to the middle area (of the Tower).
From the 20th Floor, the right to live in the middle area is granted. Many take the test after entering the inner Tower but a test requires a lot of points (money) and because of the increase in difficulty, they say there are a lot of Regulars who give up on the 20th Floor.
It's said that even after they give up, their "premium" status as a former Regulars helps out a lot in their daily needs.
Gallery
I'll take two weeks off and see you again. Thank you.
Blog Post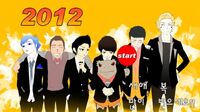 [1]
Thank you for participating in the Q & A.
For those who's question we haven't answered.
I wanted to answer all the questions.
But, please understand that this was not possible.

In fact, I wanted to stay longer.
I give my thanks to Naver and you, for your support.
After the two week break I will upload two chapters.

We will post addition information on the blog occasionally even during the absence.
I'm screaming sometimes on Me Today.
If you are interested, you can visit.
SIU's Me Today Account (Not in use anymore)

I'll be back soon
In Part 2, I will try to come back more better than before.

Thank you.
[2]
References
ARCS
List of Arcs
Chapters
Part 1 Review
Community content is available under
CC-BY-SA
unless otherwise noted.