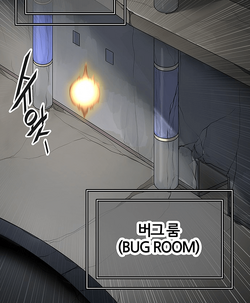 The Bug Room (버그룸, Beogeulum)[1][2] or "Glitch Room", refers to a secret and hidden space somewhere inside the Hidden Floor to stores any kind of malfunctions or errors. It was first revealed when Big Breeder Hwang came to visit Data Urek.[1]
About
The Bug Room is like a black hole formed in the space between the mirrors (Hidden Floor territory and Hidden Hidden Floor territory). Not even Data Zahard can monitor this place.[3]
History
After the real Urek Mazino failed to copy his data perfectly in the Hidden Floor because his power are simply too strong for the system to measure, Urek smashed and broke the Mirror at the End into pieces and left. After the mirror broke, a temporary "error" occurred to Big Breeder Hwang and all Data Humans. Even the Sworn Enemy who should have disappeared when he left the Hidden Floor, remain exist in an unstable form. Then, a massive "Bug Room" was formed. Big Breeder Hwang then opened the gate pr portal of the Bug Room and started to put all of the data with "errors" mark into this room.[3]
Shortly before Data Zahard's duel with Baam, Data Urek was waiting inside the small chamber within the Bug Room area for Big Breeder Yellow or Hwang to recover the final mirror fragment from Ha Yura. Inside the small chamber, Data Urek played video games to play to kill his boredom.[4]
On the day of the duel, after Baam and Data Eduan took the right side elevator to fight Data Zahard, Hwang guided Khun Aguero Agnis, Rak Wraithraiser, Androssi Zahard, Bero Bero, Sachi Faker, Boro, David Hockney, White, Traveller and Icarus into the left elevator and later they ended up into the Bug Room territory and meet Data Urek who has been waiting on top of the pillars. Hwang and Data Urek then explain their plan to lure out Mirror of the Past from The Third Space and trick it to copy the Hidden Hidden Floor territory, so the scale will catch a glitch and it will enter into the Bug Room territory and then Data Urek will destroy it[2]
Notes and Trivia
Bug word here refers to Wikipedia:Software Bug, (error, flaw or fault in a computer program or system that causes it to produce an incorrect or unexpected result, or to behave in unintended ways.)
Big Breeder Hwang can open a gate from this Bug Room that leads to The Third Space,[3] (it's a place guarded by the Mirror of the Past to check everyone who enter the Hidden Floor.)
Mirror of the Past didn't know about this place.[2]
Alternative Translations
Gallery
References
Community content is available under
CC-BY-SA
unless otherwise noted.