The Sandman Will Keep You Awake - The Loop
Play Sound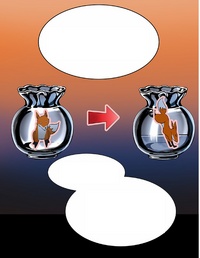 Bowl (그릇, Geureut)[1][2] or Fishbowl (어항 , eohang)[3] is a special spaces or spatial container that Animas uses to control a subjugated Shinheuh. The Shinheuh then will be compressed and stored inside this "bowl".
In order to control a Shinheuh, an Anima must use a bowl. This is accomplished through a special kind of Shinsu.[3] The container that an Anima employs as a bowl may vary from a simple jar (e.g. used by Sunwoo Nare) to an entire room's chamber (e.g. Lo Po Bia Alphine).
According to SIU, bowls are usually best when they are portable and the Shinsu must be changed regularly to maintain control over the user's creature.[4] So far, Metalfish and Fenryl are the only known creatures that do not require a bowl in order to control them.[5]
Examples
Images
Alternative Translations
Tank (A container) - (LINE WEBTOON)
Fishbowl[3]
References