Jurassic World: Dominion Dominates Fandom Wikis - The Loop
Play Sound
Boondawan (본다완, "Bondawan") was a Regular that participated in the 30F Workshop Battle and won the 10th round of the Plug Battle.
About
Boondawan is known as "Hell's Scrubber" for disguising himself as a scrubber and skinning thousands of people in the Tower. Despite being decapitated as punishment for this, he lived and returned to the Tower. He is notorious even among E-rank Regulars. Bellux recruited him as a Vanguard when Team Bellux participated in the Development Tournament.
Appearance and Personality
Boondawan appears to be a massive human, although as his face has not been seen this cannot be confirmed. He usually goes barechested in battle, wearing only a pair of green shorts, some arm guards, and a green helmet resembling that of an early diver.
Image Gallery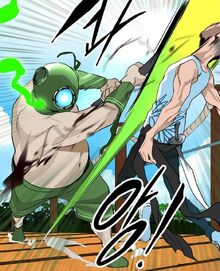 Boondawan was one of the Regulars whose victories were noted by Io. He appeared to be the only Regular who qualified in his round.
Boondawan was the most expensive Vanguard, with a price of 100,000 points. He was recruited by Bellux, who thought that he was very powerful due to his ill reputation. He defeated his assigned opponent in one blow (however Bellux's team received no points as the real vanguard, Medina, was still alive). He was later defeated by Vespa.
Powers and Abilities
Boondawan has a fearsome reputation and is known as a "vicious killer" by many. He wields a green mace in battle and has demonstrated immense strength (being able to smash a sword with a single blow without using his mace) and surprising speed for his size.[1] He can easily defeat most E-rank Regulars in a straight-up fight, though he was easily beaten by Vespa, mostly due to his lack of protective clothing.[2]
References