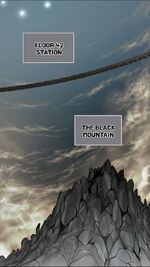 Black Mountain is the fifth station of Hell Express in the Tower. It's located on the 42nd Floor. It took two months to reach this station after departing from the Mushroom Farm station.[1]
About
Black Mountain is a rocky place. It is located atop a very high mountain, thus many Ticket Holders fail to reach it. However, since taking the Hell Express allows Regulars to reach the 43rd Floor faster than through the usual way, many of them still make the journey to attempt boarding the Train. There's also an Altar at this station.[1]
Beniamino Cassano get down from the Hell Train and visit this place under the request of Ja Wangnan. Other Regulars who has been waiting for the train to arrive attacked him for his Express Ticket, but he easily defeated them all.[1]
References
Community content is available under
CC-BY-SA
unless otherwise noted.