Big Breeders (빅 브리더, Big Beulideo) are rulers of the Hidden Floor.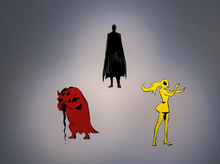 About
Big Breeders control data humans. They have the ability to adjust the data. They are compared to Administrators. Wandering Minstrels serve to worship and praise them. [1]
Chung and Jeok reside in the Hidden Hidden Floor and use VR devices to control their avatars in the Hidden Floor.[2] Hwang doesn't need any VR device and it can travel to and from the Hidden Hidden Floor.
Known Big Breeders
Notes and Trivia
References