"
Tell Karaka!! I'll never let him enter my ship unless he brings Deng Deng to me!! If he wants to get in anyway, he'll have to follow the laws around here and beat me in a fight first! I DARE YOU, KARAKA!! I DARE YOU!!
"
Baylord Yama (베이로드 야마, Bae'ee'rohdeu Yahmah) is the seventh Slayer of FUG and is widely known as the King of Bayroad.[3]
Madoraco said he is one of the richest FUG Slayer by making money with sports entertainment and secret gambling on the side.[4]
Baylord Yama has two brothers, an older brother who is sleeping under the fang and a younger one.
History
Baylord Yama was one of the Pitbulls that battled in Bayroad and it is said that he was the strongest Mad Dog of all time.
In the pit, he was a God of Death (사신, 死神, sahshin) who drove opponents to their doom and people came to call him "Yama, the Lord of the Dead" (야마, 죽은자들의 왕, Yahmah, Joog'eunjahdeul'eui Wahng, or "King of the Dead") out of respect for him. Later, he killed his own keeper and successfully became the only Mad Dog to ever escape from Bayroad and climb the Tower. Although no exact details are known regarding this procedure, it is rumoured that Imort (이모르트, Ee'mohreuteu, or "Immorte" etc.), another Slayer of FUG, was involved. [3]
After becoming a Ranker, Yama returned to Bayroad with FUG's power at his back and killed the previous owner of the pit. Hence, he simultaneously became the King of the Mad Dogs and a Slayer of FUG. Because of this, it has been frequently hypothesised that the domination of Bayroad was the final condition he had to fulfill to become a Slayer. [3]
It is rumoured that he is currently using the enormous revenue made in Bayroad as a weapon to build mysterious pleasure and entertainment facilities (adult entertainment involving alcohol, drugs, and sex) everywhere throughout the Tower and therefore expanding his influence and power. However, he has never shown his face since becoming a Slayer.[3]
At some point, he sent his Three Mad Dogs to climb the Tower.
It is later revealed that Yama used Doom's power to share with the canine people instead of his.
Appearance and Personality
Baylord Yama has fair coloured skin, long red hair, and dog-like ears. His teeth are jagged and his yellow eyes have black marks around them. His height is over 2 meter 70 centimetre, taller than even Zahard, with well-build and muscular body.
Image Gallery
Baylord Yama and his fighting dogs are seen sitting in a hot tub. Yama called the intruders arrogant for coming into his territory and says Karaka is out of his mind.[2]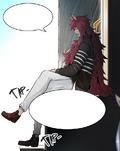 Yama who is angry dared Karaka to start a fight with him. After a while, Yama is growing tired of waiting for Deng Deng to arrive. He later received news that the Slayer Candidate arrived on Madoraco's ship with Deng Deng. Yama who's delighted told his men to bring Deng Deng over.
Yama who is in a good mood is talking with Gado who is Second-in-Command of the gang. Yama tells Gado to greet the guest and later they all gathered at Yama's throne.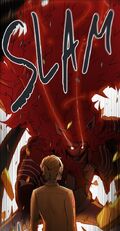 Yama later asked where Deng Deng was and Karaka told Yama that they aren't sure if he'll help them, so Karaka is keeping Deng Deng in the ship for the time being. Yama then asks what they want and before Karaka can speak up, Baam demands Yama to promise that he will free Deng Deng. After hearing what Baam said, Yama who is irritated asked if Baam came here to die.
Yama, amused at Baam, asks if all irregulars is a loose cannon like him. Yama then asks what Baam's plan is. After hearing that Baam wants to participate in the Canine Tooth Festival and win against him, Yama and his gang laughed at his challenge. Yama then agrees to the challenge and accepts Baam's conditions, but if Yama wins, he'll take Deng Deng, not help Baam with saving Ha Jinsung and then claims he'll take the thorn and kill Baam.
Later, the Elder's Envoy greets with Yama and start a conversation with him. The Envoy then asks if their members can participate in the Festival also and if they win the bet, Yama would give what they want.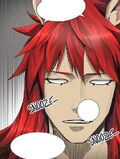 Yama who was sleeping is being awakened by Baam. Yama wakes up only halfway since he is a very deep sleeper. He then attacks Baam but Karaka intervenes to save Baam. After when Baam and Karaka attacked together on Yama, he wakes up completely and is confused with what's happening.
Yama is soon left furious with the fact that Gado had betrayed him and Doom had awakened from his slumber and reveals to Baam and Karaka the truth of his war with Doom. Determined to ensure Doom does not wreak havoc using the entire canine people, Yama resolved to kill Doom this time even though it will leave the canine people extinct but agreed to give Karaka and Baam a chance to challenge Doom, although he grimly warned them that if Doom regain the fang, he will kill him. When confronted by Jordan, Yama proceeded to task him with having Baam and Karaka monitored.
Confronting the Elders Envoy, Yama easily destroyed the box given by the Elders and proceeded to effortlessly shrug off a powerful attack from the Envoy and stopped his attempts to flee with the power of his Partial Transformation Level One before threatening he will send him to hell.
Powers and Abilities
Baylord Yama is an extremely powerful High Ranker, as he was capable of defeating both of his brothers, despite Doom being one of the Top 200 High Rankers in his prime. He has expressed confidence that he could easily take any number of enemies Paul unleashed upon him including Paul himself and noted that he could have killed Doom had it not been for the fact he could not transfer his power to the canine species and stated that with Doom now released, he will kill him if they fight.
Yama is phenomenally durable, as the improved Baam's Shinwonryu could only partially wake him and the combined efforts of Baam and Karaka were needed to fully wake him up, which still did no damage on him. He also took a powerful attack from the envoy of the Elders with absolutely no damage, even mocking him.
Notes and Trivia
Unlike other canines, Yama sleeps like he is hibernating. He is also not used to be living in a pack and it is said that he is like a Wild Beast.
Quotes
(To his Gang) "Hmph... Such arrogance. How dare they set foot in my territory. Karaka must be out of his goddamn mind. That little kid's sure grown up a lot."[5]
Alternative translation
References
Community content is available under
CC-BY-SA
unless otherwise noted.