The Sandman Will Keep You Awake - The Loop
Play Sound
Baylord Wang Wang (베이로드 왕왕, Beilodeu Wangwang) was a Beastkin who carries the blood of the Canines. He is the biological father of Baylord Doom, Baylord Yama and Baylord Paul. He was a Ranker.[2]
Appearance and Personality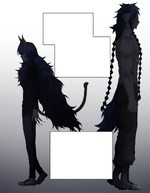 Wang Wang has short dark blue hair like Lo Po Bia Yasratcha. He originally has red sharp ears, but the design changed to light brown thick ear. He has spiral green red eyes like a tornado.
In his adult appearance, Wang Wang is taller than Yasratcha.
History
After Baylord Yama found out the truth about his parents from Yasratcha and Baylord Doom, Yama receive the power of The Fang that belongs to Doom. After Yama was stabbed with the Fang on his chest, he saw memories of Wang Wang from the past where he saw Yasratcha talked to his father.[3]
Power and Abilities
Main article: Fangs of Wild Beast
As the original leader of the Canines species, Wang Wang possess an incredibly powerful, yet unique power. This power was known as "Fangs of Wild Beast". This power allows Wang Wang to create his own species and army by turning normal Humans or members from other Race into Canines.[1] Because his power is unique, the Lo Po Bia Family Head rescued Wang Wang from The Workshop and adopted him into the Lo Po Bia Family. However, Wang Wang did not become a family member, but rather he become a servant to do dirty works for the family.[1]
Gallery
Notes and Trivia
The word "왕 (Wang)" literally means "Bark" (Dog's voice or sounds), but it can also mean "King".
When first introduced his name (왕왕) is translated as 'puppy' in the line translation.[3]
Reference