Baylord Paul (베이로드 폴, Beilodeu pol) is Yama's third brother and a High Ranker. He is currently in The Cage during the Three Fangs Festival.[1]
He is the youngest of the three brothers.
Appearance and Personality
Baylord Paul has light skin, green hair and a mark below his right eye. He has canine ears like the rest of the members in the cage.
Image Gallery
History
A few years before entering The Cage , Baylord Paul received its coordinates from an Elder of FUG, which he has been looking for ages.[2]
Baylord Paul came out of Xia Lulu's pet and killed multiple canine people immediately. His presence instils fear upon Varagarv and Ron Mei causing them to freeze. He later demands the fang in Apple's Lighthouse but Michael asks Paul to help him kill Khun Aguero Agnis so they'll give the fang. After he fatally hit Khun, he allowed Rachel's team to hold the fang for the time being.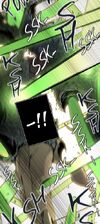 Paul encounters Culden and instantly defeats him. After, Baylord Paul meets with Gado who betrayed Yama. Baylord Paul and Gado brought Deng Deng to where Baylord Doom is locked up at and prepares to give his heart to Doom.
TBA
Powers and Abilities
Baylord Paul's strength is incredible and he casually one-shotted a Top-Ranker Culden.[3] However, he is weaker than both Yama and Doom, with Yama noting he can easily beat Paul and anyone he had with him and stating Doom is on a different level than Paul.
Clan
Baylord Paul has his own clan. He has at least three servants[4]:
References
Community content is available under
CC-BY-SA
unless otherwise noted.