Bath (목욕) is the third arc of the first story of the second volume of the Tower of God series.
Arc Summary
In the aftermath of the World's Strongest Regular test, Wangnan relaxes in his room and is delighted when Nia turns out to be his roommate.
Meanwhile, Love voices his intentions to eliminate Viole to Augusgus but Augusgus forbids him, telling him that they must obey the absolute rule of the Tower. Love refuses, emerging from Augusgus' office after being punched in the face.
In Yihwa's room, she faces the dilemma of failing the test or teaming up with a Slayer candidate. As she is contemplating this, Viole comes in. Yihwa assumes he is her roommate and a girl, both of which are wrong, and she only finds this out when Viole enters the male baths.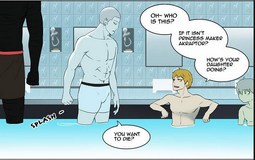 Horyang and Akraptor are getting a massage and are both willing to become Zahard's enemy and team up with Viole. They enter the baths and join Wangnan and Nia. Lurker, Prince and Rapdevil come in and Prince goes and joins Viole, much to Lurker's distress. Prince blusters and Viole, who isn't listening, instead asks Rapdevil if he really defeated Hatsu. When Rapdevil confirms this, Viole issues a veiled challenge then leaves. He finds Wangnan's ring with the Zahard symbol on it and, instead of killing Wangnan like Wangnan expects, he gives it back. He then walks away despite Prince's re-appearance.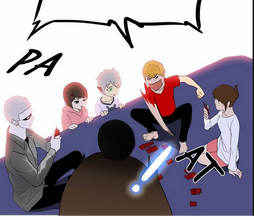 Horyang and Akraptor leave the baths and see a woman offering yogurt to Miseng. Akraptor tells her to piss off, making Miseng cry. Goseng comes out as Horyang tries to comfort Miseng, when Wangnan and Nia come to play cards. Horyang is terrible since the mark on his shoulder gives him away, but Miseng and Akraptor team up and start winning. Afterwards, Wangnan is in his room and makes the resolution with Nia to win the test and finish by eating tangsooyook.
Images Galllery
Community content is available under
CC-BY-SA
unless otherwise noted.