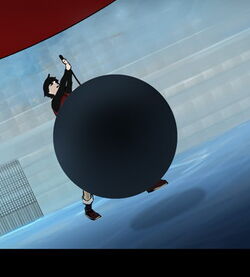 The Ball Test is one possible test given to Irregular. An Irregular doesn't have to take it. Rather, it is used to test their judgemental skills and how well they know their limits.
Test
The goal of this test consist that the participant must pop the ball guarded by the keeper.
In Chapter 1, Baam was given the Ball Test by Headon. In this test the ball's keeper was a White Steel Eel which was in its breeding season and hadn't eaten in a month, thus it was very aggressive and hungry. Both the ball and eel were placed in a area with a dense concentration of Shinsoo. It was noted by Yuri Zahard that the difficulty of the test was too high for a low Floor test and that it would be more fitting for the 20th Floor or higher.
Headon argued that the difficulty was fitting since Baam was an Irregular, but that he would allow for the rules to be bent a bit, and would accept if Yuri lent the Black March to Baam.
Result
Community content is available under
CC-BY-SA
unless otherwise noted.