Doctor Strange in The Multiverse o Madness - The Loop
Play Sound
Aria (아리아, Alia) is a High Ranker and one of the Division Commanders of the new 4th Army Corp, serving under Po Bidau Lyborick Khun's command.[1]
Appearances and Personality
Aria has pale skin and cream yellow eyes. Her hair is blonde. Her fashion style mostly dominated with cream yellow color. She wear tank top with symbol and a short skirt.
After her head was cut off by White and her later being restored to life by Baam, Aria's hair was shown to have shortened considerably and now only reaches her neck due to White having cut it during their brief duel. With her hairstyle now resembling a bob cut.
History
Four division commanders of the new 4th Army Corp under Po Bidau Lyborick Khun assembled in Raven flagship. Those division commanders are Aria, Lo Po Bia Yorayo, Unnamed Three Mouthed Giant and a mysterious white haired guy. They received an order from Lyborick to participate on Yasratcha's Gakja Dosaeng game.[3]
During the game inside The Cat Tower, Aria showed up from the floodgates that was also accessed by Ship Leesoo and Hatsu. Both Leeso and Hatsu were very surprised and startled because they encounter an enemy High Ranker. Hatsu tried to attack Aria using his basic sword but Aria can easily dodge the sword by jumping up on the air while doing flip salto and acrobatic style. Aria was interested with Hatsu's special sword Donghae, so she teased him why he didn't use Donghae and only carried it on his back. Before Aria can do anything to Leeso and Hatsu, Cha appeared and told Aria to stay away from the Regulars because they are the friends of the Slayer Candidate Jyu Viole Grace. Cha immediately attacked Aria, and both of their feet clashed. When Cha was about fight more seriously, Aria immediately surrender and say she didn't want to fight for now or die too soon, because of some annoying circumstances. Aria then proceeds to run away.[4]
Powers and Abilities
Physical
Aria seems to be a close combat fighter type. She mainly use physical attack like martial art kicks. She is very agile and has very high reflexes as she just casually perform acrobatic flip, salto kick or spinning her body backwards on mid air.
Rules Evasion
Main article: The Broken Watch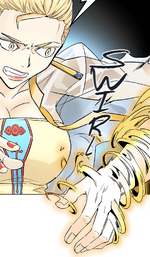 As one of many test subjects or experiments "created" specifically by The Workshop as an attempt to break the Tower's Rules, Aria has a special ability that defy one of the rules that "everyone must perceive time in the same way". That ability is called The Broken Watch. This ability allows Aria to alter that one specific Tower's law, which is the "Time Perception". This ability activates as soon as her left arm is attacked, and allows Aria to distort the perception of time for people around her. This distortion is powerful enough to affect White and allow her to avoid several of his attacks.
Regeneration: Aria is able to only regenerate her left arm, which is where The Broken Watch is located.
As observed by White, this ability also works on Aria herself. After she had been killed and decapitated by him and her later being restored by Baam, White theorized that the reason why her soul wasn't immediately devoured by him was due to her ability having altered and slowed down her perception of her own "death" and prevented her from accepting it as reality immediately, causing her soul to cling to her body longer. Successfully allowing Baam enough to time to restore her body and return her soul to it.[5]
Due to the inherently unstable nature of her powers, Aria alongside Lo Po Bia Yorayo and the Unnamed Three Mouthed Giant were bound to someone possessing a "Special Body" with an Incomplete Spell of Immortality that allowed him to absorb them into himself when they die and after a period of time, revive them again by expelling them from his body. This ability essentially granted Aria a level of immortality as this allowed her to revive repeatedly even if she should be killed in battle or "expire".[6]As described by Aria, this spell had the effect of rendering her unable to breath but still live anyway.
However despite these benefits, Aria herself stated that she hated this arrangement and when it became apparent that Baam possessed the ability to remove mysterious spells, negotiated with him to remove its effects from her.[7]
Images Gallery
References