Doctor Strange in The Multiverse o Madness - The Loop
Play Sound
The Archimedes, also referred to as Archi, is one of the five great Floating Ships of The Workshop. It's famous for having a beautiful body despite its enormous size. The huge ship is currently on the 30th Floor and was the location of the most recent Workshop Battle. It dwarfs most of the structures Regulars have encountered on previous Floors and is a truly impressive sight. Archimedes has large chunks of suspendium attached to the ship, helping it float. During the recent Workshop Battle, Regulars had to win a ticket in the event known as One Shot, One Opportunity to be able to board the Archimedes. In the Workshop Battle, every facility and services offered to the general public is free, except for the item purchases.
Ship Physical Structure
Tail Anchor and Giant Container
There in an anchor behind Archimedes' tail that was used by FUG to hold a giant size container with a dissolving solution, with its purpose being to fuse Jyu Viole Grace's soul with Enryu's Thorn in order to create the ultimate weapon for Karaka; it was manually dropped by one of FUG's Rankers.[1]
Giant Floating Stone
Archimedes has 2 giant floating stone on the outer left and right side of the floating ship. These floating stones that made Archimedes capable to fly.
Floating Stone Ring Connector
Archimedes was designed in a very unique way. There are 2 giant floating stones was completely separated from the body of the ship and it looked like it's floating on it's own at both left and right sides of the ship without any supporting physical form (wireless). But on each of the floating stones, there is some kind of light blue ring. There are no further information about the rings, but it seems like those 2 rings was connected to the ring machine at the rooftop center of the ship.
The Archimedes is a flying ship which contains all the latest technologies of the Workshop. The size of the ship was so huge, there are 4 Level of Floors and many notable places, such as the following:
First Floor Level
Parks and Water Fountain.[2]
Second Floor Level
Poolside
There is a vast poolside and various different types of entertainments[3].
Luxurious hotels, kiosks and restaurants.
Third Floor Level
In this floor, there are shops or stores that are selling the items that was created by the Workshop where the public can purchase them. This is most likely for Archimedes business and income.[5]
Acorn Workshop
According to Hatsu, this might be one of the shops that are selling items. He visited this shop to buy a new sword, but the shop was closed.[5]
Party Room
After the first grand arena tournament ended, a night party event was held for the regulars that passed the test. This event was attended almost by all regulars including Wangnan who is drinking with Akraptor, Horyang and Goseng who is having a romantic time dancing together, Prince and Miseng (in bear costume disguise), and Androssi Zahard who come to the party just to follow and monitoring Viole from behind.
Banquet 32-1, a hall where Emily guided Androssi Zahard under the princess' request about the whereabouts of Viole via the phone.[2]
Fourth Floor Level
Grand Arena / Stadium
A place where thousands regulars participants gather to begin the first round of workshop battle tournament. This building consists of a giant dome with a series of large rock pillars surrounded by water.
Individual Waiting Room, a room where the Regulars participants of the grand arena are waiting for their turn to fight.
Private VIP Room
VIP Room was first seen at the beginning chapter of the workshop battle arc, when a myterious white-suit person talked with someone over the some kind of communication device that looked like a dvd-player.[6] Because one of Archi's ship roles as entertainment while the workshop battle was held, they definitely have many VIP Rooms for their special guest. One of this room was used by one of the family head Po Bidau Gustang that especially came to watch the workshop battle event. This room service provided Gustang with a chair sofa, a dvd-player and a vast amazing sky-view landscape that was covered by transparent glass.[7]
Restricted Areas
There are several forbidden areas within the Archimedes that not anyone can access and was guarded by workshop securities (human soldier and robots machine):
Intruder Containment
Located in the 2nd Floor Level, intruder containment (or simply 'jail / prison') is a forbidden place and restricted area which held many intruders who often sneak and tried to force their way through the Archimedes. One of the intruder was Traveller.[3] The prison was guarded by two armed workshop soldier.
Emily Chamber Room
Sophia accompanied Ilmar and Cassano to the underground secret lab facility that can only be accessed through an elevator "E-03".[5] In this facility, there's a giant egg-looking machine with Emily's name was written in capital alphabets "EMILY" on the top of that egg. Because Emily is one of workshop best artificial creation, it should've been obvious that this place is a very restricted area. This room is guarded by one soldier with a change of guard shift time regularly.[5]
Main Control Room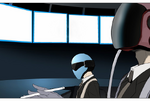 Archimedes control room is located in the 2nd Floor Level. This room were used by Io, Punk and Madoraco to discussed about business matter and monitoring the Workshop Battle.[3] There are many monitors and also sofa chairs. After their discussion, Madoraco was seen together with his two ranker bodyguards R and another Unnamed ranker watching the poolsides.
Sophia's Work Office
Located somewhere in the 3rd Floor Level, deep within the small alley, camouflaged between the workshop shops, sealed tight with security door, Cassano bringing Horyang to Dr.Sophia Amae's work office.[5] Dr.Sophia is a workshop scientist that was in charge of Cassano and Horyang's devil arms experiments and their mental growth.
Beta's Treatment and Medical Room
Located in the 3rd Floor Level inside Sophia's work office, Beta walked his way through a hall in his sick condition with the infusion fluid still intact in his left arm, where he caught Hatsu was peeping in front of Sophia's work office.[5]
Possibly many other research labs, laboratories and medical rooms that focus on many scientific fields and experiments, such as developing Living Ignition Weapons (like Beta and Emile).
Images Gallery
Alternate Translations
References