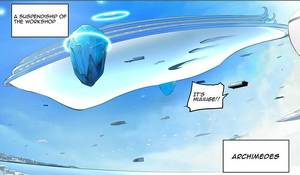 The Archimedes, also referred to as Archi, is one of the five great floating ships of the Workshop. It's famous for having a beautiful body despite its enormous size. The huge ship is currently on the 30th Floor and was the location of the most recent Workshop Battle. It dwarfs most of the structures Regulars have encountered on previous Floors and is a truly impressive sight. Archimedes has large chunks of suspendium attached to the ship, helping it float. During the recent Workshop Battle, Regulars had to win a ticket in the event known as One Shot, One Opportunity to be able to board the Archimedes.
Known Areas
The Archimedes is a flying ship which contains all the latest technologies of the Workshop. On the first level there are luxurious hotels and the restaurants. On the second level there is a poolside and various different types of entertainments. On the third level there are shops which have items made by the Workshop where the public can purchase them. On the fourth level of the Archimedes is where the Grand Arena resides, which consists of a giant dome with a series of large rock pillars surrounded by water where the first round of the Workshop Battle, known as the Plug Event, was held. During the Workshop Battle every facility and services offered to the general public is free, except for the item purchases. There are restricted areas such as the Intruder Containment which held intruders who tried to force their way through the Archimedes such as the Traveller and the Archimedes Control Room where Io, Punk and Madoraco oversaw the Workshop Battle. Deep within the Archimedes are facilities of the Acorn Workshop, one of the Workshop's laboratories that focus on developing Living Ignition Weapons such as Beta and Emile. On Archimedes' tail was a container with a dissolving solution, with its purpose being to fuse Jyu Viole Grace's soul with Enryu's Thorn in order to create the ultimate weapon for Karaka; it was manually dropped by one of FUG's Rankers.
Community content is available under
CC-BY-SA
unless otherwise noted.