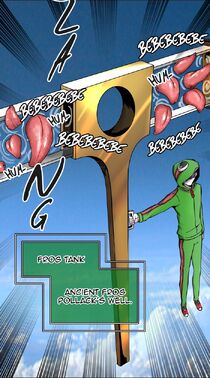 Ancient Frog Pollack's Well
(고대개구리 폴락의우물,
Godaegaeguli Pollag-uiumul
) is a Frog Tank, type of
Bowl
, in which
Anima
Dorian Frog
keeps his
Shinheuh
, Ancient Frog
Pollack
.
[1]
The shape of this frog tank looks like a hammer.
Powers and Abilities
Dorian Frog activates it with words "Dig a Well now, Pollack". This Frog Tank can make eyes come out of it. These eyes are able to analyze person's power level.[2]
Pollack's Well can also make tongues come out of it. Tongues can generate and shoot High-Concentration Mucus (고농축 점액질, Gonongchug Jeom-aegjil). The mucus is very durable. It can stop speeding Hell Train or White's attack.[3][2] The mucus was shaped like water when it was first shot but later it can be hardened and eventually glued to the hell train like a rope or gum, preventing the train from moving foward.
Gallery
Alternate Translation
Well of the Ancient Frog Pollock[4]
References
Community content is available under
CC-BY-SA
unless otherwise noted.