The Sandman Will Keep You Awake - The Loop
Play Sound
The 43rd Floor North City (노스 시티, Noseu Siti) is a city in the northern region of the 43rd Floor, currently ruled by Grand De Lee. It appears to have a colder, snowy climate with Arctic landscapes. Garam Zahard hides and reside in this place, accompanied by her friend Kranka.[1]
About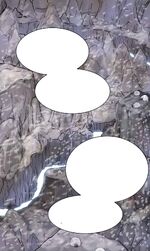 The North City have a colder and snowy climate with arctic and tundra landscapes. There are many rocky mountains spread across the North City. There are also many stalactites on the ceilings with yellow bright light bulb that seems to be some kind of lighting system. Many residence in the North City take shape of the Igloo or Snow Hut. The Princess of Deep Colored Sea "Garam Zahard" hides and reside somewhere in this location, accompanied by her friend Kranka.
Because Garam has been hiding from the Zahard Empire, she had established her own outpost somewhere in the North City and she utilized several Shinheuh called Eye Bugs to monitor her surroundings. Garam can also monitor the 43rd Floor Entrance Gate directly from her outpost. Even the artificial doll "gatekeeper" High-Leech Monk who guard the entrance gate will follow her orders.[1] The gatekeeper has been setup to follow Garam's order because the creator of the High-Leech Monk doll is the same person who helped Garam to hide and escape from the Zahard Empire, and that person is Po Bidau Gustang.[2][3]
History
At some point of the Floor of Death history, after Hell Joe managed to persuade most servants of Grand De Sah to rebel, Hell Joe attacked the Grand Family castle in the 43rd Floor South City, captured Grand De Sah and imprisoned him in the "Eternal Prison". Ultimately, Hell Joe took complete control of the South City.[4]
After Hell Joe established his power in the South City for a period of time, he tried to invade De Jah's Castle in the North City in order to seize The Spirit Room for his ambition to set people free from the immortality spell that prohibited the inhabitants in the Floor of Death to exit the floor. However, Hell Joe failed to invade De Jah's Castle because Grand De Jah had special eyes that can see the future and already anticipated the invasion beforehand. De Jah used his eyes to place many booby traps along the path that Hell Joe took towards the North City. Not only with the help of his special eyes, Grand De Jah also receive aid from Garam Zahard to defend the North City. Hell Joe who didn't know about De Jah's special eyes was confused as to why there are so many traps along his way and eventually, Hell Joe gave up to invade De Jah's Castle.[5]
Images Gallery
Notes and Trivia