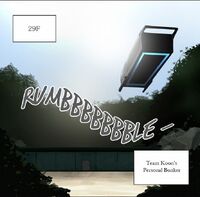 The
Twenty-Ninth Floor
seems to consist of large grasslands surrounded by coniferous forests, where
Regulars
reside in houses in the countryside. Every team took residence on this
Floor
before the invitations for the
30th Floor Workshop Battle
had been sent out.
The test "Battle of Cannons" took place on this Floor. The test area was a desolate land with several trenches, where one team tried to deactivate the other team's cannons. Regulars could use trenches to hide from enemy fire.
Floor Officials
Plot Summary
In the early chapters of the Devil of the Right Arm arc Koon sets out with his two teammates to defeat Cassano.
During their absence, the conspiracy orchestrated by FUG takes place, resulting in Gyetang being poisoned by Michael and Dan repeatedly stabbed by the angry Rachel.
After being saved and healed by Team Tangsooyook, Koon returns to his hideout on the 29th Floor only to find the dead Gyetang and the seriously injured Dan.
Trying to explain the inexplicable behaviour of FUG's Slayer candidate, he comes to the crazy conclusion that he could be his friend Baam which is confirmed by Hwa Ryun who appears behind him. She explains the events that took place on the Second Floor seven years ago and asks him to join forces with Tangsooyook and win the Workshop Battle to get Viole back. Accepting this bet, he puts all members of the team through a month of hellish training.
Meanwhile Cassano tells Horyang that their teacher Sophia Amae is waiting for them on the 30th Floor. Also, the last two teammates of Viole's new team, Reflejo and Yuto, are introduced.
The news about Koon's death and FUG's declaration stir his old teammates and the rest of Ship's Team. Upon hearing the news, Rak leaves his solitude to find the 'scamming turtle'.
Community content is available under
CC-BY-SA
unless otherwise noted.